Google Domains Beta Review
I've had the opportunity to play in the Google Domains Beta program over the last two months.  I submitted my name into the program sometime in late 2014 and was accepted (along with a lot of other people) in December.  I moved my first domain over from my current registrar in February 2015 and registered my first new domain through them in March 2015.  In this post, I'll discuss my experience transferring in an existing domain, registering a new domain, how the service works (with screen shots) and what I like and don't like about it.
Domain Transfers
I own nine domains, and I try and keep them all with the same registrar.  I selected one of them that I wouldn't lose any sleep over if there were DNS or Email issues, and I started the transfer process.  To do this, I had to unlock my domain at my current provider, and generate and Auth Code.  Both were pretty easy steps, however neither have anything to do with Google.  On the Google end, they just take in my domain and tell me the four steps I need to take in order to start the process.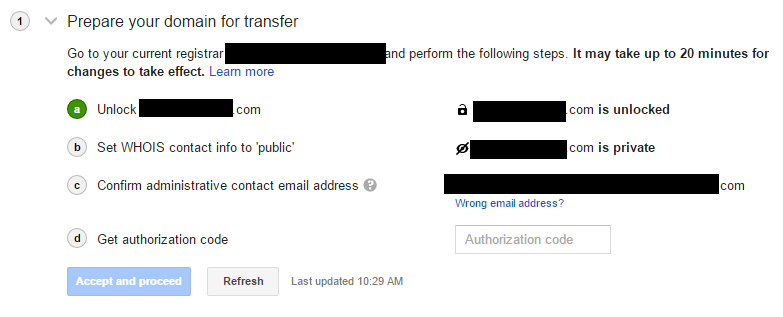 Once I completed all four of the steps and hit Accept and Proceed, I was asked if I wanted to transfer in the current DNS settings or start fresh with Google's DNS, and then I was done.  Since I already have a Google Wallet account, it used my existing credit card information to charge me the $12 domain fee, and it added 1 year to my existing end date on the domain registration.  Google told me it could take up to 5 days for the transfer to complete, which is pretty standard across all registrars in the .COM/.NET/.ORG space.  Almost immediately I got an email from both my current registrar as well as from Google, each wanting me to confirm the request was valid.
In true Google fashion, the entire process was pretty clean, even for a beta program.  There is an Incoming Transfers status page that shows you where the domain is in the process, which I've shown below, but I feel like this page could be reduced to a single line without progress.  There are only three steps:  Request, In Progress, and Complete, so I think a list of domains that are in progress would be sufficient.

New Domain Registration
Seeing how easy that domain transfers were, I imagined new registrations to be even easier.  The process is pretty straightforward, you enter the domain you're looking for, and Google returns the domain you looked up, along with some similars.  Google even mixes in what it calls "premium" domains, which are essentially ones that are for sale from a 3rd party at a markup.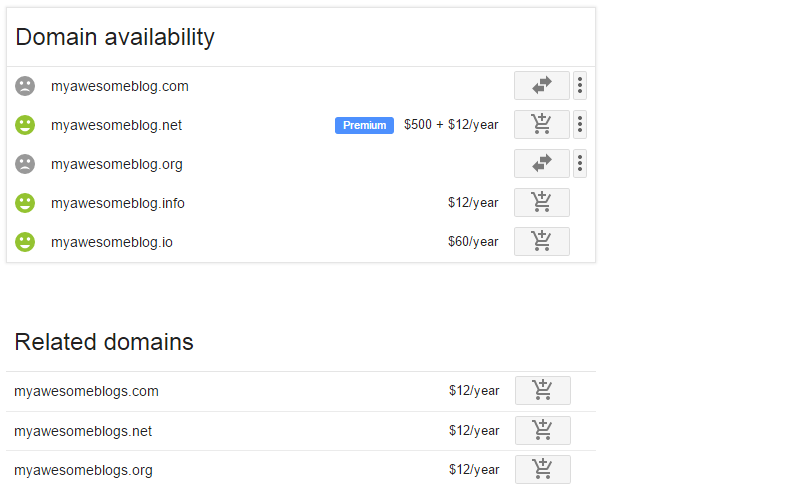 Once you make your purchase, the domain is immediately available in your control panel, even though it may not be publicly accessible for a while.  You can start configuring email forwarding, DNS settings, privacy, etc.  Like with the transfer, since my credit card is already on file, it just goes right through.
Using the Service
Regardless of how your domain got into the system, everything else is the same once you're in.  The main page will list all of your domains with some configuration buttons and how much longer is left on your service.  Incoming transfers are not shown here since you can't manage them yet.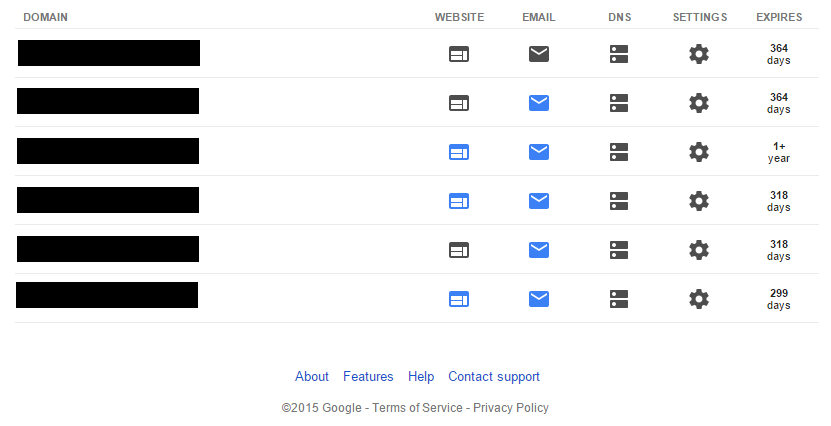 Where website icon is blue, I have a domain with no website behind it.  Clicking on this icon allows me to setup a site using one of five services that Google easily ties in with, or forward it to another domain.  Since Google isn't a web host (yet?), you're left on your own to either use one of their partner services or buy website space elsewhere and configure DNS.  Where the website icon is black, I already have a website with another provider.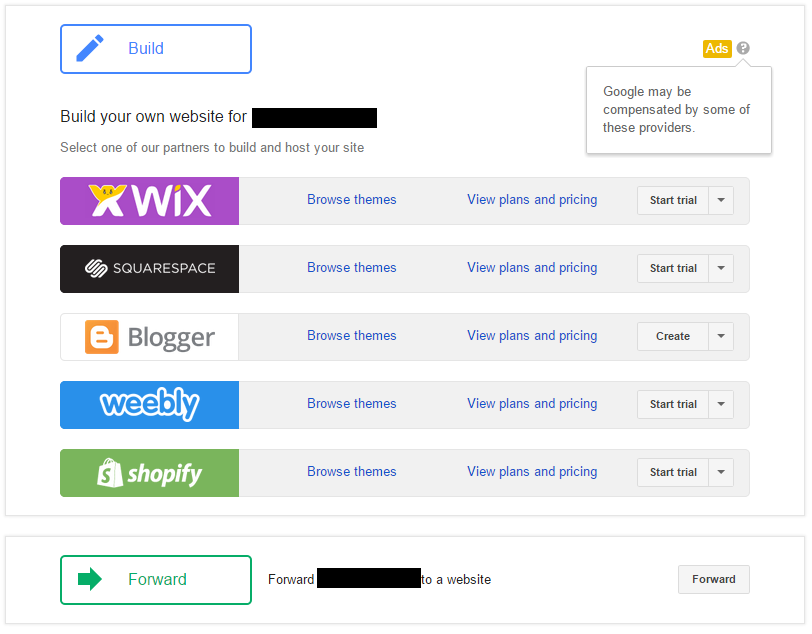 I haven't used any of these services or tried to tie them in with my Google Domain, so I can't offer any reviews on how well they all play together.
The second configuration icon from your control panel is to manage email.  I really expected something rich here given Google's investment in GMail, but it's very generic in the beta form.  You have two options here.  One is to use your own mail service and create an MX record (Mail eXchange) in DNS, and the other is to forward to a mailbox elsewhere.

I really wanted to see Google hosting at least some email hosting here, even it was just 100MB per account.
The DNS settings, in contrast to Email is a great interface.  If you're not using Google's name servers, you can enter your name servers here.  Otherwise, there is a really easy interface to create an A, AAAA, CNAME, MX, NS, PTR, SPF, SRV, or TXT record.

And finally, we have the settings page.  There are only two things to control here.  The first, is if your domain is locked or unlocked, which essentially just prevents it from being transferred out of your registrar maliciously. The second, is domain privacy.  Domain privacy allows you to put in a proxy name for your Registrant, Admin, and Technical contacts.  Anyone who attempts to reach you using your whois information will go through your proxy instead, who will forward the information on to you.

The Good, The Bad, The Summary
All-in-all, I've had an enjoyable experience with Google Domains Beta this year and have begun moving all of my domains over to the service from my current registrar.
At $12/year, they're a little more expensive than many other registrars, and come with no promotions (other providers offer a free domain with a hosting package, for example).  That said, they offer privacy for free, which I previously had to pay for, so at the end of the year, I'll save money by moving over, and I'll enjoy a slightly better interface.
So - points for Google Domains Beta:  Quick & Easy, Nice DNS Setup, and Free Privacy.  Points again: Where's email hosting, Google?  And: no web hosting, which means that more novice users may have a slightly more difficult time if they're hosting elsewhere.
---