Midwest Management Summit 2018 - Day 1
I'm really excited to be attending the Midwest Management Summit (MMS) for this first time this year.  For those who don't know, MMS has been running since 2015 and picks up where Microsoft dropped off.  It's held yearly at the Mall of America, which is also great since it's my first time making it out here.  The core focus seems to be in making sure that the System Center (mostly configuration manager) community stays connected in and that we're all learning from each other.
While I wish I could have made almost every session that was held on the first day, I can only be at once place at a time.  Below are the sessions I was able to attend.
Keep ConfigMgr Clean (Operating Smoothly, Clean, Efficient, Optimized)
Speakers: Doug Wilson, Mark Godfrey, and Gary Blok
It was almost like watching a live show with these three actors, lot's of fun to see the little bit of banter between them.  There was some comedy unintentionally woven into their demonstrations.
What I'm excited about:
Learning about OLA Hallengren's script to keep the database clean.  It'll be one of the first things I look to implement when I return to work.
Using the Collection Evaluator to find out the collections that could bring the console to a crawl.
Using PowerShell to query the SMS classes directly (more on this at a future date) - although I'll probably keep using SSMS.
Windows 10 - 1803 - What's New and What Versions are Now Retired?
Speakers: Shaun Cassells and Michael Niehaus
I've heard Michael speak before, and I really enjoy his almost-dry matter-of-factness (for lack of a better made up term) when it comes to talking about Windows.  You get the sense that he feels your pain in most things and that he's just as frustrated as you are.  Shaun
What I'm excited about:
In a side comment, someone mentioned automating tasks by using Sticky Notes to trigger a Flow task - this could be fun to play with.
My new go-to for tracking Windows builds, FlightHub.
And the most exciting news of all, there is a lot of focus on reducing the user downtime when pushing new builds.
This graph was shared by the team on how long the system is "down" when doing an update.  The goal is to front load as much of the processing to the beginning when the user can still be working.  Michael Niehaus did point out, however, that if we're using task sequences (I am...) that the dialog box that the update is in progress comes up immediately, so even though the user can work, they'll likely decide not to because they see an upgrade is in progress; work needs to be done to improve this.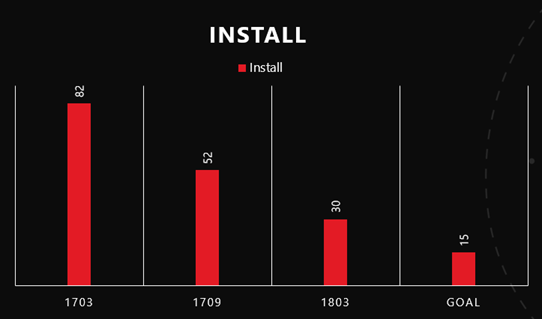 Managing Office 365 ProPlus The Right Way
Speakers: Max Fritz and Avi Prasad
Max and Avi set the expectations at the beginning of the session that this was a 100 level session and I probably should have taken their advice and taken off, but I stuck around because I think there always something to learn.  When prompted, most people in the room didn't raise their hands that they were into their O365 migrations yet, so the speakers took the opportunity to really start from the beginning.
What I'm excited about:
Learned about building the SCCM Application Deployments directly from within the ConfigMgr console. This wasn't available back when I did my ProPlus deployment.
Microsoft is finally removing the 2016 version numbers from all Office 365 ProPlus products.  This was a big point of confusion for a lot of our users and vendors at first.
Peer caching will work with Office content natively when enabled in ConfigMgr allow clients in the same boundaries to share content.
To Peer or Not to Peer
Speakers: Kerim Hanif and David James
This was my first time getting to hear David speak and hear what his thoughts were on the product.  I really appreciated that he asked a few of the audience members "Well, how would you like that to look?" in a serious manner.  He took the opportunity to gather feedback from the community that I got the impression he plans on taking back to his team.  Kerim had a lot of good information on how peer caching worked, but given the time constraints of the session, I'll have a lot to go back and look into to really learn my options.
What I'm excited about:
Learning as much as I did about Delivery Optimization and seeing how I can use this information to make my environment better.
Finally understanding the differences between all of the caching options (see image below - thanks Kerim!)
I don't need to be locked into one solution - Windows, Office, and Configuration Manager can make use of different solutions.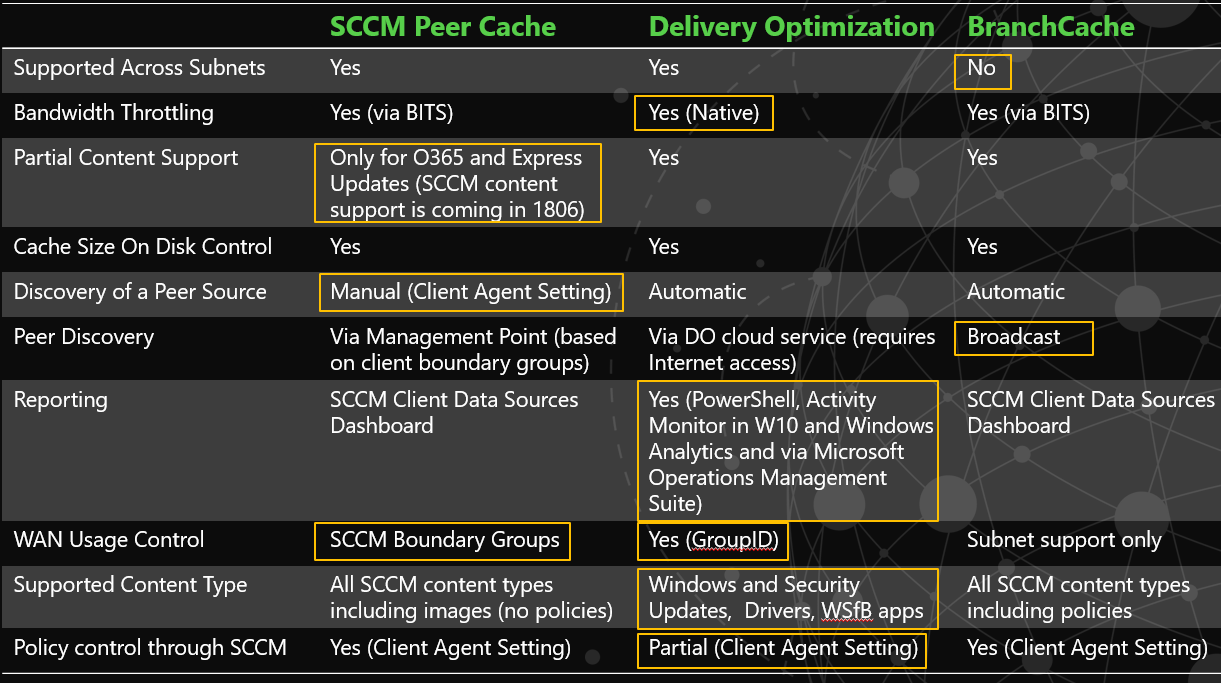 Everything Else . . .
In addition to these sessions, I also attended a "Nerds of a Feather" session for Configuration Manager.  As this was more of an open discussion, I'm going to skip the format I used above and say that I could see these sessions being useful.  Most of us were first timers and perhaps didn't understand that we should have come a bit more prepared to suggest our own topics, so the flow might have been a little shakey at first, but I think the room found their rhythm.
I also attended the closing State of the Union session, which was more like a retirement party for Wally, but was still a good time.  David James was back up on stage for this, and the point that he and Jason Sandys really seemed to want to drive home is that Intune, in the short term, is not replacing Configuration Manager.  The news were' getting from Microsoft seems to be conflicting, and I'm honestly not sure I have my finger on the pulse of the future quite yet, but I think my closing suggestion would be that most of ConfigMgr guys should make sure we have a solid understanding of the changes in the ecosystem of Traditional, Modern, and Co-Management solutions over the next few years.
---